SATURDAY
JULY 27, 2019
10:00 AM – 4:00 PM
ADMISSION $5 PER PERSON
AGES ONE AND UNDER FREE!
STAGE SCHEDULE
10:30 > INSPIRED TO DANCE (DANCE PERFORMANCE)
11:00 > JOURNEY THRU OZ (THEATER)
MARGO BATTAGLIA STUDIO OF DANSE
12:05 > BEAUTY AND THE BEAST, JR.  (THEATER)
SOUTH TERREBONNE HIGH SCHOOL DRAMA GATORS
12:45 > TALENT! TOP 8
1:45 > FROZEN, JR. & CHARACTERS (THEATER)
S.T.A.G.E. PERFORMING ARTS SCHOOL
2:05 > TALENT! FINALS
2:20 > A TIME TO DANCE
2:40 > MARTIAL ARTS (DEMO)
TIGER-ROCK MARTIAL ARTS
3:25 > POLICE K-9 (DEMO)
HOUMA POLICE DEPARTMENT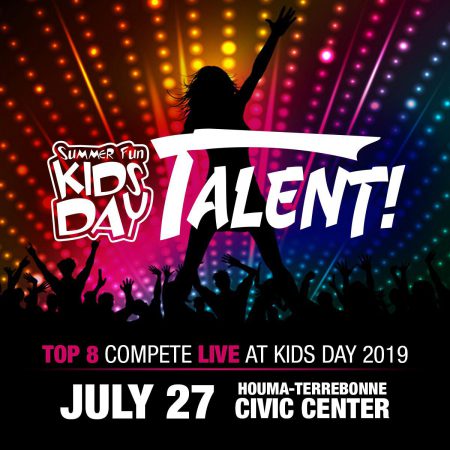 Promote your business or organization at Kids Day!
10' x 10'
Exhibitor Booth
 ONE ID SIGN
ONE 6′ SKIRTED TABLE
TWO CHAIRS
TWO EXHIBITOR PASSES
20' x 10'
Exhibitor Booth
 ONE ID SIGN
TWO 6′ SKIRTED TABLES
FOUR CHAIRS
FOUR EXHIBITOR PASSES
10' x 10'
Nonprofit Org*
INCLUDES 10′ x 10′ BOOTH PACKAGE
Summer Fun Kids Day is the bayou region's largest and longest-running indoor, children's festival. Each year, thousands of children and their families experience entertainment, products, and services from local and national brands.  Summer Fun Kids Day is produced by the Houma-Terrebonne Civic Center Development Corporation, a 501(c)(3) non-profit organization.