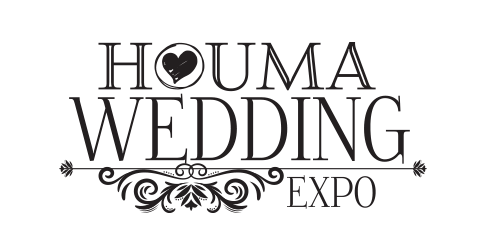 SAVE THE DATE
March 31, 2020
Tuesday, 6:00 – 9:00 PM
Houma-Terrebonne Civic Center
Admission: $10 per person (Ages 13+)
- Exhibitor Registration Open -
PREMIUM 10'x10'
Booth Package
ONLY 8 SPOTS LEFT
Premium location
8′ back drape, 3′ side drapes, 6ft skirted table, 2 chairs
Opportunity to include item or sales flyer in bride tote bag
Receive bride lead contact list following the event
Four exhibitor passes
STANDARD 10'X10'
Booth Package
8′ back drape, 3′ side drapes, 6ft skirted table, 2 chairs
Receive bride lead contact list following the event
Two exhibitor passes
6' TABLE TOP DISPLAY
Table Only Display
Two exhibitor passes
Table may not be removed from exhibit.  Space measures 5×10′. Limit of one space per vendor.  Table vendors do not receive bride lead list.
SPONSOR 20'x20'
Booth Package
 SOLD OUT
Logo on event poster, flyer, website and social media
Opportunity to include item or sales flyer in bride tote bag
Receive bride lead contact list following the event
Six exhibitor passes
STANDARD EXHIBITORS, PREMIUM EXHIBITORS and SPONSORS receive BRIDE LEAD LIST following the show.

- 2020 Exhibitors -
With a combination of family recipes, flavorful ingredients and a love for food, our extensive menus reflect versatility and creativity in all price ranges. Whether a grand corporate event or a small social gathering, planning your party is a major production, and our practice has produced perfection time and time again.
985-873-9119    WEBSITE
Inspired Designs is the Gulf South's premier decorator for your special event. We take great pride in our work, and it's our attention to detail that will make your wedding or event stand apart from the rest. We are a small, family-oriented business that cares about helping a bride put together the wedding of her dreams. This priority translates into providing customer care that is second to none.
985-790-0127    WEBSITE
Confidence is a beautiful thing. We want to give you the power to share it with the world through your smile! That's why from the moment you step into a Smile Doctors clinic, we promise your smile journey will be awesome. We don't want you to just smile, we want you to Smile Happy!
985-853-8510    WEBSITE
Check back to preveiw more premium exhibitors!
Check back to preveiw more premium exhibitors!
Check back to preveiw more premium exhibitors!
- 2020 Event Map -
A HOUMA-TERREBONNE CIVIC CENTER DEVELOPMENT CORPORATION PRODUCTION